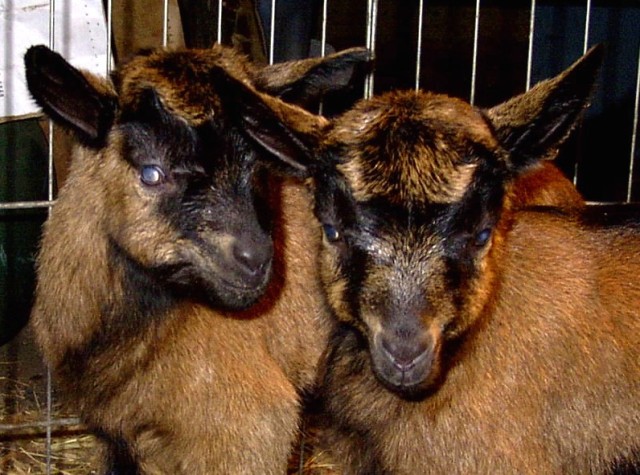 ---
---
Spring will be here soon... The 2014 Sales list will be available soon. We will be running pregnancy tests the first week in January 2014 and then I will post the breedings that kids will be available from....Click HERE to see our Kid Sales List. Pedigrees and photos (of most) of my herd are provided on this website or, you are invited to E-mail me for additional information about our dams and sires; our kidding program; or just to chat about Oberhasli.
---
Terms: Deposits are accepted on a first-come, first-served basis. 50% Deposit required for choice of kids. We recommend at least a first and second choice. Buyer will be notified immediately when kid(s) are born, request arrangements be made for pick-up within 10 days. Kids that need to be shipped will be held until 8 weeks old; Health Certificate, shipping and $50 transportation fee are the responsibility of the buyer.
My herd is USDA certified/accredited Tuberculosis and Brucellosis free, and is Scrapies Free - twelve consecutive years on the Eradication Certification Program. All kids are from CAE Negative does and raised CAE prevention; they receive CAE Negative colostrum plus COLOSTRX at birth. Kids are dis-budded and receive Tetanus Antitoxin before leaving. No other inoculations are given.
In the event that the doe or buck of your choice is not born, you may transfer your deposit to your second choice; request your deposit be held until the following year; or request a full refund.
Balance of purchase price is expected at pick-up or before shipment. Every effort is made to insure that you are pleased with your new kid, if you have any questions, please ask before accepting the animal. All sales are final.
---
---
E-Mail: rachelsie@yahoo.com